Taking Part
Volunteering:
The Friends of Combe Valley reformed in 2018 and have been very active since then. Volunteers improve the park by arranging a range of events encouraging community involvement. Activities include tree planting and collar removal, path clearing and sweeping, litter-picking and cutting back of brambles.
Working parties are held Thursday from 10 am – 12 pm, also every third Saturday in the month 10 am – 12pm. (weather permitting).

We meet at the Discovery Centre, Freshfields, St Leonards on Sea, TN38 8AY. w3w full.solar.cone.
Unless notified of change of starting place.

By car – The entrance to the Discovery Centre car park is just on the right before the ESCC tip entrance.
By bus – Service 98 or 99 to bottom of Freshfields on Bexhill Road.
To get involved, please contact Peter Clark

Tel: 07393 358530
Email: Team@friendsofcombevalley.co.uk
FB: @combevalley
Instagram: friendsofcombevalleyarttrail.
Everyone involved agrees this Countryside park should remain at the heart of their community. Why not pay a visit, if not to join a working party, but to enjoy nature as you stroll through this woodland corridor.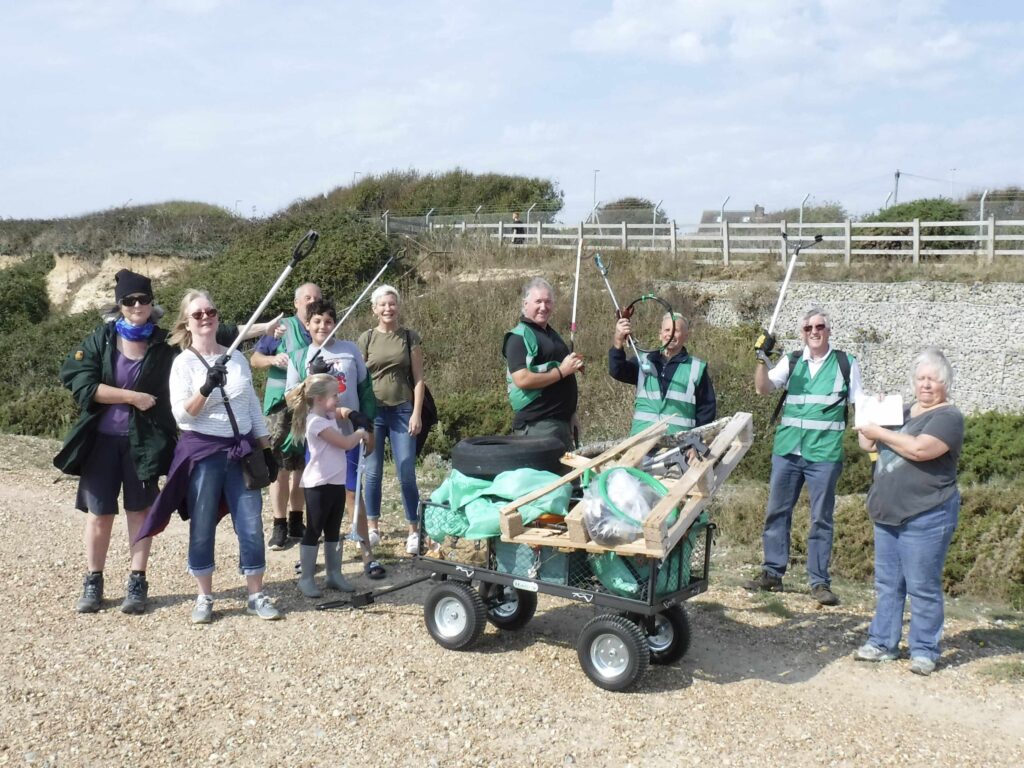 ---
Wardens
The Combe Valley Warden Service has been operating since December 2019, in close liaison with Hastings Police, the Sussex Police Rural Crime Team and with Rother Police at Battle Police Station.
The Warden Service has six volunteer wardens, one of whom is the warden co-ordinator.
They regularly patrol the Combe Valley Countryside Park with around 30 miles of paths and a varied landscape of waterways, woodlands, water meadows and marshes.
There have been many instances of unacceptable behaviour including criminal behaviour reported by the wardens. These include:

deliberate fires in woodland and grass fires,
the painting of anti-Semitic slogans and other graffiti,
loose dogs in swan nesting areas,
illegal stocking of East Sussex County Council anti-flood attenuation lakes with golden carp, illegal fishing,
the misuse of off-road vehicles and track motor bikes,
damage to paths, gates, stiles and fences, including bat boxes, a bird hide, farmers property,
fly-tipping and items of stolen property,
the harassment of walking families and farmers by bikers.
The regular patrols of the Warden Service with prompt reporting of crimes to police have resulted in a reduction in the number of incidents. Facebook has been used to appeal for witnesses and local people have taken photos of suspects which have been sent to Sussex Police.
The wardens have provided information and maps to visitors to the park and helped reassure visitors if they have come across damage or other problems.
On average the wardens spend about 12 hours each week patrolling in the park, which works out at about 600 hours in 2020 and 440 hours from January to the 18th September 2021.
Community Safety includes path clearance, path repair, the removal of fallen trees. Work is in hand to install disability-friendly kissing gates and information notice boards with maps, wildlife identification information and police warning notices.
Volunteers, including the wardens, have spent in excess of 350 hours undergoing restorative work in the park from May 2021 until September 2021.
If you wish to find out more about becoming a warden then contact :
Peter Clarke on   07393 358530
Email: Team@friendsofcombevalley.co.uk
Administration:
All groups need help so becoming a trustee, helping with administration, organising/assisting with events is a very useful way to volunteer.
We also manage the bookings for the hire of the centre.
Contact Peter Clarke on   07393 358530 for more details.
Email: Team@friendsofcombevalley.co.uk
Cafe
The cafe is currently closed, however, we hope to get this is up and running in 2022. Volunteers will be needed to serve basic drinks and refreshments on several mornings. It will involve taking a basic online health and hygiene test which is very simple to undergo and we can assist with the completion of this. If you wish to help in any way please
Contact: Peter Clarke on   07393 358530
Email: team@friendsofcombevalley.co.uk